CTP Series Clamp Open-type Current Transducer/Sensor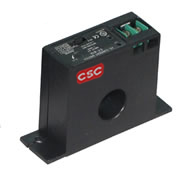 Features
● Clamp open design
● Linear analog output
● voltage output passive design
● Easy installation and easy maintenance
Applications
■ HVAC Engineering
■ Building Control
■ Pump
■ Small Industrial Motors
■ Fan
■ Lighting
CTP Series clamp open-type current transducer /sensor is a low cost circuit for monitoring changes in current ideal choice can significantly reduce the risk of equipment operation and maintenance costs. Which current sensor is a solid-phase sensor for monitoring the AC input current changes, by conversion module to convert it to 0-5V ,0-10V or 4-20mA analog signal, etc., to output to the PLC type display terminal . Ideally suited for monitoring and controlling the current changing situations. Voltage output type without external power supply. CTP Series clamp opening design, installation can be without disconnecting wires, more convenient, when they need maintenance and replacement easier.
Model
CTP-50-1E
CTP-200-1E
CTP-50-2B
CTP-200-2B
CTP-50-3C
CTP-200-3C
Measuring Range (AC) *
[Multi-range]

0-10A
0-20A
0-50A
0-100A
0-150A
0-200A
0-10A
0-20A
0-50A
0-100A
0-150A
0-200A
0-10A
0-20A
0-50A
0-100A
0-150A
0-200A
Output (DC)
4-20mA
4-20mA
0-5V
0-5V
0-10V
0-10V
Supply Voltage (DC)

24V

24V
None
None
None
None
Accuracy
± 1%
Linear
10% ~ 100%
Repeatability
100%
Maximum Overload
200%
Operating Temperature
-30 ~ 70 ℃
Operating Humidity
0 至 95% (non-condensing)
Frequency Range
40 ~ 100Hz
Insulation Voltage
2000V AC
Shell Material
self-extinguishing material ABS (UL94V-0 certification)
Size
Height x Width x Thickness: 62 x 90 x 25.5mm, mandrel diameter: 20mm
Certification
CE, CSA, UL, Rohs
* multi-range, refers to the range of products has three stalls for the user to choose to switch when in use.
Model Code Description:
CTP - clamp open type current transducer
50/200 - 50 : Maximum Range 50A, 200 : Maximum Range 200A
1E /2B /3D - 1E :4-20mA output, 2B :0-5V output, 3C :0-10V Output