CTD Series Solid Fixed port type Current Transducer/Sensor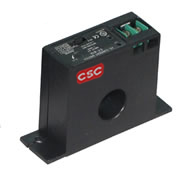 Features
● Solid fixed port design
● Linear analog output
● voltage output passive design
Applications
■ HVAC Engineering
■ Building Control
■ Pump
■ small industrial motors
■ Fan
■ Lighting
CTD Series Solid Fixed port type current transducer / sensor is a low cost circuit for monitoring changes in current ideal choice can significantly reduce the risk of equipment operation and maintenance costs. Which current sensor is a solid-phase sensor for monitoring the AC input current changes, by conversion module to convert it to 0-5V ,0-10V or 4-20mA analog signal, etc., to output to the PLC type display terminal . Ideally suited for monitoring and controlling the current changing situations. Voltage output type without external power supply. CTD series current transducer using a large-caliber design, easy wires through, and there are mounting holes for fixing, easy to install.
Model
CTD-50-1E
CTD-200-1E
CTD-50-2B
CTD-200-2B
CTD-50-3C
CTD-200-3C
Measuring Range (AC) *
[Multi-range]

0-10A
0-20A
0-50A
0-100A
0-150A
0-200A
0-10A
0-20A
0-50A
0-100A
0-150A
0-200A
0-10A
0-20A
0-50A
0-100A
0-150A
0-200A
Output (DC)
4-20mA
4-20mA
0-5V
0-5V
0-10V
0-10V
Supply Voltage (DC)

24V

24V
None
None
None
None
Accuracy
± 1%
Linear
10% ~ 100%
Repeatability
100%
Maximum Overload
200%
Operating Temperature

-30 ~ 70 ℃
Operating Humidity
0 至 95% (non-condensing)
Frequency Range
40 ~ 100Hz
Insulation Voltage
2000V AC
Shell Material
Self-extinguishing material ABS (UL94V-0 certification)
Size
Height x Width x Thickness: 62 x 90 x 25.5mm, mandrel diameter: 20mm
Certification
CE, CSA, UL, Rohs
* multi-range, refers to the range of products has three stalls for the user to choose to switch when in use.
Model Code Description:
CTD - solid type current transducer mounting holes
50/200 - 50 : Maximum Range 50A, 200 : Maximum Range 200A
1E /2B /3D - 1E :4-20mA output, 2B :0-5V output, 3C :0-10V Output